From TargetSmart
The entirety of the Trump presidency has been marked by uncertainty and volatility for our country, exponentially more so during the coronavirus pandemic. As we focused our efforts on understanding how a pandemic which has seen people of color impacted more severely than white Americans, the creation of an economic recession, and an inspiring movement for racial justice and equality might impact the November elections, we turned our focus to voter registration and turnout trends.
While we will have a more comprehensive analysis to share soon, I wanted to share some of our initial findings, as I believe they at once demonstrate the challenges that lay ahead of us while providing hope that we can and will prevail.
As we shared in our recent analysis, voter registration slowed immensely in the first several weeks of the pandemic taking hold in our country. Election offices were closed, and in-person voter registration efforts were halted. Our analysis showed that, while those who were registering to vote were slightly more likely to be white, Republican, and older as compared to prior to the pandemic, the overall gaps were minimal and generally no more than a few hundred voters per state.
Following the activism that took place after the murder of George Floyd and demands for justice and equality, along with states gradually re-opening around the country, we took this opportunity to check-in on voter registrations and reflections in the electoral process.
The earliest sign came from Georgia, as the state began allowing voters to cast early ballots in person for their June primary. We found a significant surge in turnout among Black voters, who comprised 35% of early ballots cast before the demonstrations, and 47% after they began. Youth intensity also surged as well, with voters under the age of 30 seeing their early vote share almost double in a day: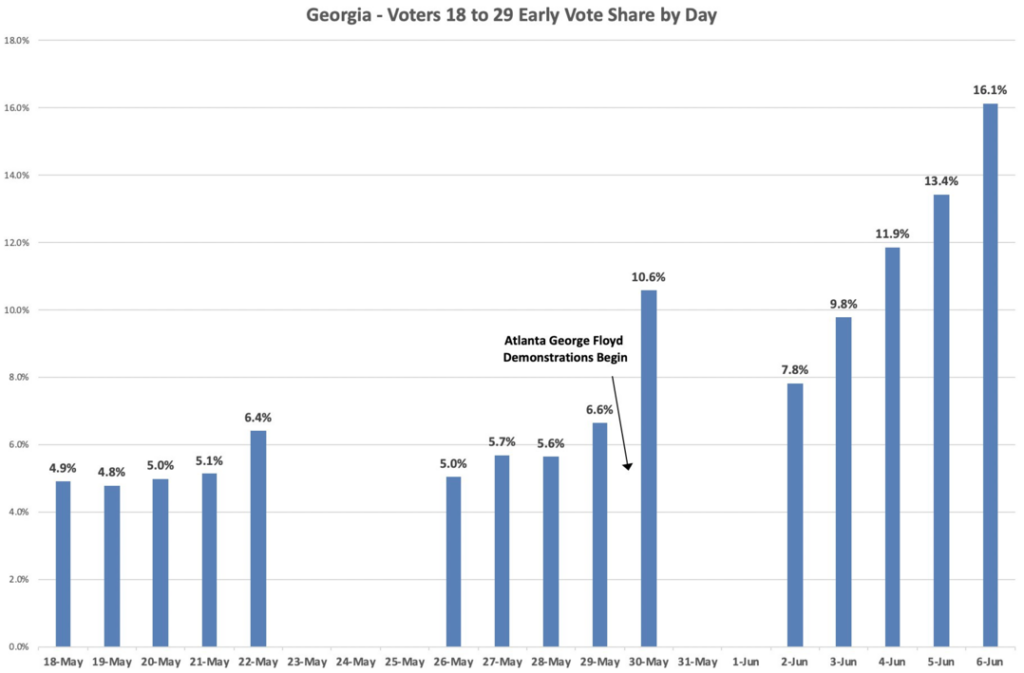 And all the hard work paid off in driving Trump out of office. But we will need to stay on the street to win justice.